Fulbright Program — Affiliation: National Institute of Design (NID), Graphic Design Department, 2019–2020
Official project title: "Creative Publishing as Cultural Outlet and Site of Exchange and Dialogue Between US–India"
Program duration: 7 months (program concluded 2–3 months ahead of schedule)
My role: Design Research Scholar, India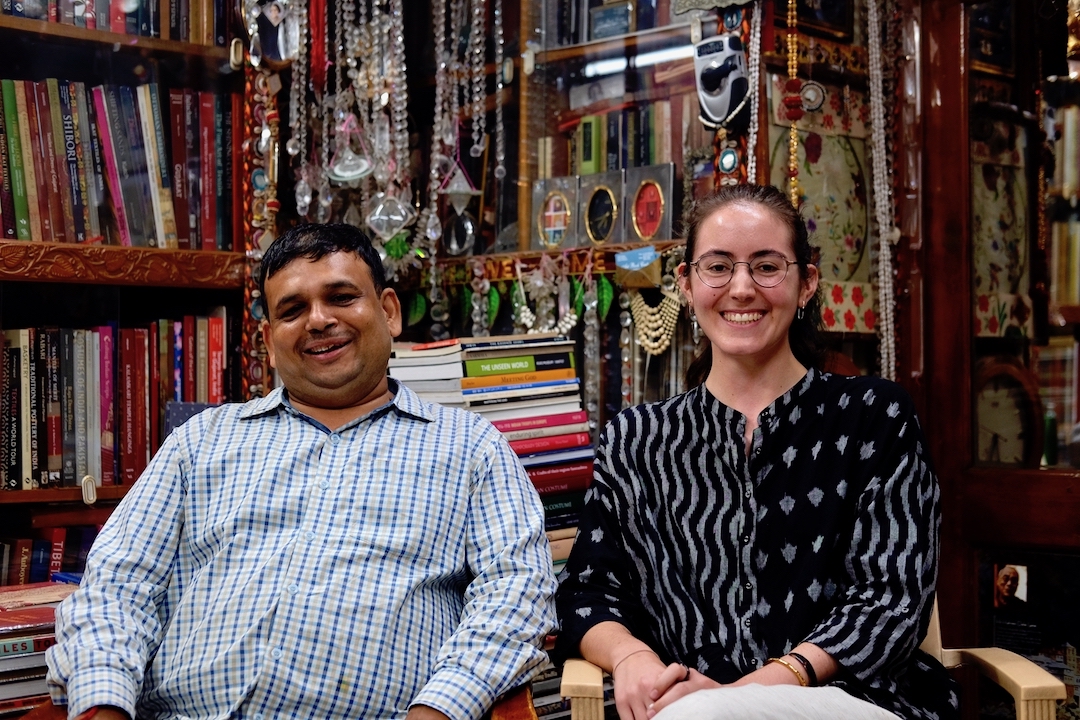 Me with the second generation co-owner of the legendary and micro Art Book Center, Ketan. Photo by Eli B. Cohen.

Fulbright, operated by the US State Department, is the world's largest and most diverse educational exchange program, with multi-disciplinary operations in 160+ countries. As Fulbright India's only design researcher, I maintained a strong engagement with my academic affiliation and its student body. I was also invited multiple times as a guest speaker while in-country.

My research methodology led me to focus on art books in India from three angles:

A) Current practices: Engaging with relevant illustrators, designers, and artists, discussing their creative processes, and forming professional relationships.

B) Acquisitions: My core project goal was to facilitate 6 US art museums to acquire 100+ contemporary art books directly from ~10 creative groups.

C) Events: Attending relevant events and fairs and supporting their organizers with advice across business modeling, project structuring, and international reach.

Handmade, screenprinted titles by Tara Books, an independent publishing house started in 1994. Image via Tara Books.

Fulbright's global programs concluded in March 2020 due to the State Department's COVID-19 global evacuation notice. All scholars relocated to the US to complete projects remotely—therefore, my work remains in process, minding quarantine closures and budget cuts. Below is a brief overview of my research highlights.


---
A) CURRENT PRACTICES
My shortlist of pan-India art book publishers/distributors is below. I did not know all of these groups before starting research in India; initiating communications and working relationships with each was a personal accomplishment.

An exemplary publication is "Unfolding the Saree," a 2016 zine conceptualized, written and designed by the Mumbai-based designer Mira Malhotra. This self-published, serigraph-printed zine "explores the madonna/whore phenomenon that is unique to the saree-wearing women of India."


Images and info via Studio Kohl and Printed Matter.
---
B) ACQUISITIONS
I plan to share publishers' inventory lists in a standard format with the US museums, easing the acquisitions process and encouraging continued relationships. The museums that confirmed their interest in potentially making acquisitions through my research are:

SFMOMA (San Francisco)

The Getty Research Institute (Los Angeles)

Walker Art Center (Minneapolis)

SAIC (School of the Art Institute of Chicago), Flasch Collection
The Metropolitan Museum of Art, Watson Library

SMFA (School of the Museum of Fine Arts) Boston
---
C) EVENTS
In September 2019, I visited the Farside Collective for the last week of their 7-person creative residency program in Leh, Ladakh, Kashmir. Residents, including designers, artists, illustrators, and curators, each created a unique book at the end of the program's several weeks. In the final public program, the group displayed the new titles on the local central market street; nearby, vegetable sellers displayed tomatoes and apricots in a similar fashion.


Left: Me at center with the Farside Collective crew at the final public display in Leh. Photo by Yeji Yun, one of the residents. Right: Art Book Depot Jaipur Edition. Photo by me.

Farside Collective is a co-organizer of "India's first independently organized art book festival." In Leh, I led a 4-hour project management workshop for the inaugural 5-person team to delineate role responsibilities, refine goals, project budget, and schedule deadlines. I also assisted in developing international reach by motivating 25 of my contacts to apply for the fair's open call. The January 2020 event, Art Book Depot Jaipur Edition, was a great success.


---
CONCLUSIONS: A WORK IN PROGRESS
I see the potential relevance of art books in India now as a medium to allow a flourishing of earnest expression, creativity, individualization, and a micro or alternative economy. At the same time, this practice provides professional balance, enabling an alternative outlet for creative satisfaction and recognition alongside more formal or commercial design work.