Candid — DPM for the 500-person telehealth startup's brand/ creative/ content/ product design organization, WFH—NYC, 2021
My role: Design Program Manager (AKA Bridge Builder, Wrangler, Shepherd, Plate Spinner, Gatekeeper, Traffic Cop, Translator, Cheerleader)



Visiting our team's work IRL at Candid's Out of Home subway station domination at Broadway/Lafayette in NYC, August 2021. Me (leftmost) with some of my New York-based former colleagues from Candid's Design team, from L–R: Amy Lieberthal (Copy Director), Andrew Peet (Creative Director), Leia Perkins (Associate Brand Designer), Carly Shatzkin (Senior Brand Designer), Voltaire Hardy (Growth Designer), Jung Hwang (Product Designer).


I was the first dedicated Design Program Manager at the NYC-based, direct-to-consumer, data-driven Candid, a telehealth startup that's redefining orthodontics and remote patient care—while unlocking self-expression.

I worked with both "sides" of the design house—with product designers and with creative/brand designers/copywriters. I was the only PM for a distributed team that doubled to ~20 total, enabling a thriving team dynamic in the midst of WFH adjustments, pandemic volatility, and most notably, hypergrowth. A $150M funding round early in my tenure multiplied marketing and headcount budgets—and the Design team's expected output. (Candid's valuation at EOY'21=$600M.)



Please visit my

LinkedIn

for details on my impact on the Design/Product/Marketing teams, plus recommendations of me from Candid's CMO and its 2 primary Product Designers. The trust I held as the "connective tissue" of the team and a "DesignOps of 1" led my responsibilities to include wearing multiple hats:
---
PROJECT MANAGEMENT & RESOURCING
I received and tracked up to 30 concurrent projects using Asana, collating a view of hours worked across all running projects per team member. As an extremely data-driven company, Candid's C-level relied on such "data-ized" views of team bandwidth and resourcing to digest the Design team's advocating for headcount or (re)prioritizing of projects' timelines.


A mockup of Asana's Workload view: Each Design team member's capacity was set to 40 hours/week. If an individual's collated tasks exceeded 8 hours/day, their workload graph turned red. I used this dynamic graph to plan into future quarters. Image via Asana Guide.
---
REINTRODUCING ASANA: LEVEL-SETTING TEAM'S ASANA USE, CREATING TEMPLATES
When I joined Candid as the first dedicated DPM, Asana was a new team tool and there was no rhyme nor reason to how it was implemented. Along with my supervisor, the Executive Creative Director (ECD), we overhauled the use of Asana from the ground up. All new projects started to use the 5D's project template, where projects could be clearly identified to cross-functional stakeholders by their current phases: Discovery, Design, Develop, Deliver, Data Review.


I wrote and shared this Slack note with the Design team, so they could use this message as a tool to internally educate by evangelizing the Design Process with other Candid departments. Designers oftentimes had to deflect project asks that came in via ad hoc Slack messages; this way, they had an answer to those asks.
---
PROCESS ITERATION: THE DESIGN REQUEST/BRIEF FORM
The company's President, the ECD, and I combed through the creative request form (hosted on Asana) to make a 2.0 version of the creative brief. This allowed for the design process to be more "quality in, quality out." By identifying necessary resources, success metrics, and audience needs at the start, projects' results could be held to clearer expectations.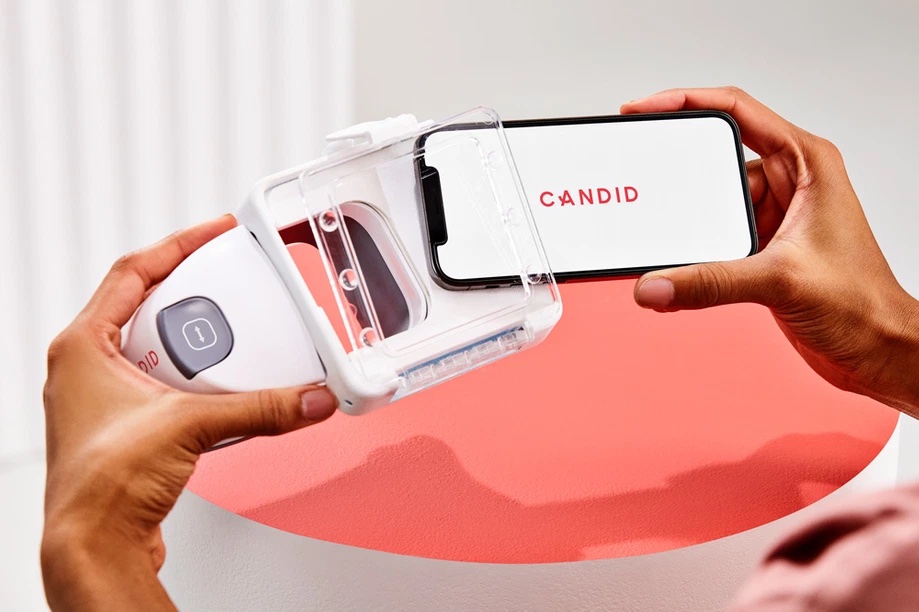 Candid's product and mobile experiences: As a telehealth (tele-orthodontia) company, the Patient Experience (AKA the UX) lasted anywhere from 4-18+ months, with a browser-based HIPAA-compliant portal, an app for remote comms with orthodontists, and the marketing site as the base points for the user's journey to a straighter smile.
---
PRIORITIZATION & GIVING PUSHBACK
As the DPM for a hypergrowth startup with an infinite appetite for design assets, prioritization was key. I received new requests on behalf of the design org, then determined the project's design lift, expected timeline, and current team member bandwidths, and outlined resourcing decisions. Briefs/requests usually required my initial conversation with the stakeholder to clarify and distill the ask. I had a brief 3x-weekly prioritization 1:1 with my supervisor, the ECD, to determine the go-ahead or pushback strategy on new requests. As I became more familiar with the stakeholders and C-suite, I oftentimes made these prioritization decisions autonomously and with minimal oversight.


---
PM'ING MAJOR PROJECTS: 6 MONTHS OF OUT OF HOME (OOH) & SPRINT PLANNING
I represented the designers' needs, removed blockers, and looped in the right stakeholders to project-plan sprints; sprints focused on designing the patient/customer experience—particularly across CRM and where Product-Brand overlapped—and refining the brand identity and style guidelines.


My Slack message to the entire company (~400 at that time) advocating on behalf of the Design team's upcoming Brand Sprint, which was 100% dedicated time for the entire Design team (including Product)—they had their Candid Slack accounts on silent for the week!
The gorgeous results of the Brand Sprint: The designers created a modular system that allowed the in-house team to create thousands of assets—across OOH, TV, social, and other channels—with extreme efficency and consistency.

I cleared and guarded the way so the team could design and complete a 3-week in-house sprint to refresh and expand the brand identity. I PM'd the team through this brand sprint to wrap just as work began on a major multi-stage-release, 6-month, 5-city national OOH buy. The design work was highly iterative over the releases. I organized and evangelized the enormous OOH deliverables calendar and kept the team on track by advocating for strategy, research, in-house design, the C-suite, and production freelancers to be kicked off or looped in at appropriate pre-deadline times.


---
ONBOARDING & DESIGN TEAM GROWTH
Due to the startup being in hypergrowth, onboarding was a hugely important part of my role as DPM at Candid. I overhauled the Design onboarding flow and deck in collaboration with the Creative Director, assigning and building process around Team 101 sessions with subject matter experts. We went from having a Design onboarding process "made of tape and bubble gum" (quote, my supervisor, the ECD) to a highly-functioning and much appreciated program held over the initial weeks.

I led the general onboarding Welcoming call—including Design team norms, first day FAQs, overall what-to-expect—and the Asana/Project Process 101. (The HR team led company-wide onboarding needs.) I welcomed all new design/creative hires, and represented the Design team in welcoming other departmental leads and C-suite teammates, including Creative Strategy Director, Product Marketing Directors, Heads of Sales, and the CMO.


---
TEAM CULTURE & THE INTERPERSONAL
I am thrilled that these horizontal efforts are part of the DPM's role, as I organically lean into developing these inherent team dynamics through events, rituals, and moments of human connection. I love being hospitable (I'm a regular host of cocktail/holiday parties myself) and welcoming folks to the crew. At Candid, as everywhere, team camaraderie was crucial in maintaining a healthy employee experience and striving for retention—and conversion from contractors to FTEs. As our team emerged from 100% remote/WFH to occasional IRL gatherings, I helped rally for and organize in-person moments, while balancing remote-friendly opportunities.


My Halloween 2021 Zoom costume for our weekly Friday Design team group call as "Someone from the Metaverse" (the day after the Meta announcement).